Peter Switzer Daily
No stopping the stock surge?
Another day and the rally rolls on for Wall Street with the Dow onto a new record close of 14,296.24 — that's up 42.47 points or 0.3 per cent. Meanwhile the S&P 500 index is being lured to its all-time high close with only about 24 points to go before it beats its 2007 best close of 1565.
I don't know what will stop this surge in stocks but something will come along and I like to recall the experts who were so confident back in 2009 that this market comeback was a fake.
Big call merchants
This one about the stocks rally in October 2009 comes from the guy who has been telling everyone that our house prices were set to tumble for the past few years, Jeremy Grantham: "This is the last hurrah," he observed. "A large rally is far more likely to prove a last hurrah... a codicil on the great bullishness we have had since the early 90s or, even in some respects, since the early 80s. The US market will drop below fair value, which is a 22 per cent decline (from the S&P 500 level of 1098 on October 19)."
Since that time the S&P 500 is up some 40 per cent. That's a big miss.
Then there was Harry Dent out here last year scaring the pants off everyone with his dire predictions, which included a real estate crash for Australia and the Dow would go to 3000!
As an economist you just know these big call merchants are nothing but publicity-seekers as the difficulty of comprehending where a market can go rests on too many unknowns.
No I'm not going into a Rumsfeldian known knowns, etc — it stresses me out!
Stop, rewind, play

One day the music will stop and it could be when the Federal Reserve stops slipping $85 billion a month into the US economy and interest rates start to rise, but if the global economy is recovering then, well the music could be re-started and we could see stocks go higher until another crash comes along, like it always does.
Some smarties will get out before then and play it safe until the crash, where they will buy in again at low prices, then suffer years of wondering if they got it right. But time will be on their side if they stick to quality companies, and they will be proved right.
This is what happens when you play stocks.
On Wall Street
Helping stocks head higher is an improving US economy with most data pointing to a believable recovery. Overnight the Federal Reserve's Beige Book confirmed this belief.
Also the latest private sector employment survey in the US showed a 198,000 jump in jobs, which was way over the 170,000 expected. Also, mortgage applications spiked dramatically.
Against that, the pace of the rally over the past few months makes me think a retracement is likely but not compulsory, so it's a real gambler's market right now.
When isn't it? The only difference is the way you feel. Right now I think I'm on a great horse with good form and with a good chance of winning. It's not like I have my last $100 on a long-shot in the last! That takes me back to January 2009 — they were stressful times, but it's nice when you end up on a winner!
Important information:This content has been prepared without taking account of the objectives, financial situation or needs of any particular individual. It does not constitute formal advice. For this reason, any individual should, before acting, consider the appropriateness of the information, having regard to the individual's objectives, financial situation and needs and, if necessary, seek appropriate professional advice.
Published on: Thursday, March 07, 2013
blog comments powered by

Disqus
Today on Switzer
How are Australia's states and territories performing?

Global shares had another rough week on worries about global growth and as the Ebola scare continued to build.
---
These emerging types of media deals are undoubtedly clever. But the problem now is, if the moral line was crossed, how would we ever even know?

Great news out of Wall Street and Europe over the weekend – hope it's sustained. I also ponder why our leaders hit our confidence.
---
For a look at what's going on with the Aussie dollar and where it might be headed, currency analyst Jo Masters joins Switzer TV (Broadcast Wednesday 15 October, 2014).

Oh, it's an interesting old time in the world of business and I don't just mean those wild market gyrations about which some of us have been warning you for some time.
---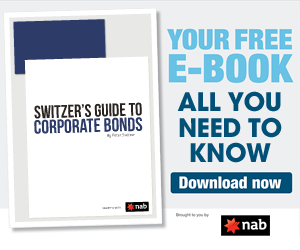 THE SWITZER FEED
Tweets by @peterswitzer