Business News
US stocks end mixed; Dow and S&P 500 rise
US stocks ended mixed on Friday with the Dow and S&P 500 finishing higher.
The Dow put on 45.79 points, or 0.35 per cent, to 12,949.87.
The Nasdaq lost 8.07 points, or 0.27 per cent, to 2951.78.
The S&P 500 was 3.19 points, or 0.23 per cent, higher to 1361.23.
In news, the consumer price index increased 0.2 per cent in January, according to the Labor Department.
And the Conference Board Leading Economic Index for the US rose 0.4 per cent in January to 94.9.
In earnings, Heinz said net income for its third quarter was US$284.7 million or US$0.88 per share. In the same quarter a year earlier, it reported net income of US$273.8 million or US$0.84 per share. Shares rose US$2.37, or 4.55 per cent, to US$54.57.
Campbell Soup reported net income of US$205 million, or US$0.64 per share, for its second quarter, compared with US$239 million, or US$0.71 per share, in the same quarter a year earlier. Shares rose US$0.84, or 2.62 per cent, to US$32.90.
In Australia on Friday, the S&P/ASX 200 increased 14 points, or 0.33 per cent, to 4195.9 and the All Ords was up 16.1 points, or 0.38 per cent, to 4273.3.
Oil this morning was at US$103.24 per barrel and gold was at US$1725.90 per ounce. The Australian dollar was buying 107.68 US cents, 67.97 pence Sterling, 81.69 euro cents and 85.71 Japanese yen.
Published on: Monday, February 20, 2012
blog comments powered by

Disqus
Today on Switzer
Share markets have bounced back over the past week but it is still hard to be confident the worst is over.

To analyse volatile October and what to expect going forward, Professor Ron Bewley of Woodhall Investment Research joins Switzer TV. (Broadcast Tuesday 21 October 2014).
---
Is it onwards and upwards for the stock market, or will there be another leg-down? Fund manager George Boubouras shares his perspective. (Broadcast Tuesday 21 October 2014).

The stock market is down to goodies vs. baddies and the good guys are winning! But for how long? Long!
---
There is good news for motorists with pump prices likely to fall further over coming weeks

A few weeks ago I wrote about the exciting things happening in Brisbane but there's also plenty of great news outside the capital.
---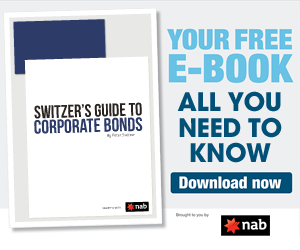 THE SWITZER FEED
Tweets by @peterswitzer