Business News
RBA cuts cash rate; Shares lower
Australian shares finished the day lower with the S&P/ASX 200 down 1.48 per cent.
The S&P/ASX 200 fell 64.1 points, or 1.48 per cent, to 4257.2.
The All Ords was 63.3 points, or 1.45 per cent, lower to 4316.2.
In today's news, The Reserve Bank lowered the official cash rate by 25 basis points for the second consecutive month. The rate now stands at 4.25 per cent.
Among the major miners, BHP Billiton dropped $0.55, or 1.48 per cent, to $36.71 and Rio Tinto was $1.45, or 2.16 per cent, lower to 65.55,
In financials, ANZ dropped $0.06, or 0.29 per cent, to $20.99, CBA took off $0.26, or 0.52 per cent, to $49.70, NAB was $0.37, or 1.5 per cent, lower to $24.28 and Westpac dropped $0.23, or 1.06 per cent, to $21.46.
To energy, Woodside Petroleum was $0.71, or 2.08 per cent, lower to $33.48, Santos dropped $0.18, or 1.33 per cent, to $13.36 and Oil Search took off $0.07, or 1.07 per cent, to $6.48.
And in retail, Woolworths was $0.30, or 1.18 per cent, lower to $25.22 and Wesfarmers took off $0.40, or 1.23 per cent, to $32.20.
To Asia, the Nikkei was 120.87 points, or 1.39 per cent, lower to 8575.11 and the Hang Seng had dropped 326.07 points, or 1.7 per cent, to 18,853.62.
The Australian dollar was buying 101.73 US cents, 65.13 pence Sterling, 76.07 euro cents and 79.11 Japanese yen.
Published on: Wednesday, December 07, 2011
blog comments powered by

Disqus
Today on Switzer
Share markets have bounced back over the past week but it is still hard to be confident the worst is over.

To analyse volatile October and what to expect going forward, Professor Ron Bewley of Woodhall Investment Research joins Switzer TV. (Broadcast Tuesday 21 October 2014).
---
Is it onwards and upwards for the stock market, or will there be another leg-down? Fund manager George Boubouras shares his perspective. (Broadcast Tuesday 21 October 2014).

The stock market is down to goodies vs. baddies and the good guys are winning! But for how long? Long!
---
There is good news for motorists with pump prices likely to fall further over coming weeks

A few weeks ago I wrote about the exciting things happening in Brisbane but there's also plenty of great news outside the capital.
---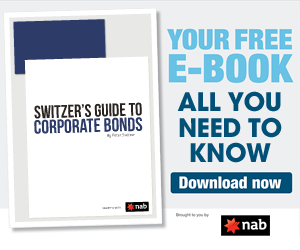 THE SWITZER FEED
Tweets by @peterswitzer