Business News
Aussie shares rise over 0.4%
Australian shares closed higher today S&P/ASX 200 0.49 per cent higher.
The S&P/ASX 200 increased 20.6 points, or 0.48 per cent, to 4306.8.
The All Ords was up 21.5 points, or 0.49 per cent, to 4389.
Among the major miners, BHP Billiton increased $0.31, or 0.86 per cent, to 36.54 and Rio Tinto was $0.58, or 0.86 per cent, higher to $68.09.
In financials, ANZ rose $0.13, or 0.59 per cent, to $22.20, CBA was up $0.18, or 0.36 per cent, to $49.70, NAB put on $0.31, or 1.34 per cent, to $23.52 and Westpac gained $0.12, or 0.58 per cent, to $20.78.
In energy, Woodside Petroleum lost $0.22, or 0.58 per cent, to $37.86, Santos was $0.20, or 1.4 per cent, lower to $14.07 and Oil Search dropped $0.04, or 0.57 per cent, to $7.03.
An in retail, Woolworths added $0.15, or 0.6 per cent, to $25.16 and Wesfarmers gained $0.12, or 0.41 per cent, to $29.23.
In earnings, AGL reported statutory net profit of $117 million, down 51.2 per cent compared with a year earlier. Shares fell $0.67, or 4.67 per cent, to $13.67.
Newcrest said it has experienced a production disruption at its Lihir operation "caused by a failure detected in the post autoclave final discharge deaeration tank and continued erratic processing plant restart performance". It expects March quarter production to be adversely affected by 50,000 to 60,000 ounces. Shares dropped $1.55, or 4.29 per cent, to $34.55.
To Asia, the Nikkei was 40.83 points, or 0.43 per cent, higher to 9636.4 and the Hang Seng was 37.79 points, or 0.18 per cent, higher to 21,418.78.
The Australian dollar was buying 107.41 US cents, 68.2 pence Sterling, 80.31 euro cents and 86.28 Japanese yen.
Published on: Saturday, February 25, 2012
blog comments powered by

Disqus
Today on Switzer
There is good news for motorists with pump prices likely to fall further over coming weeks

A few weeks ago I wrote about the exciting things happening in Brisbane but there's also plenty of great news outside the capital.
---
Really, have we so lost our sense of perspective that a quip is more important than the issue it was discussing?

To discuss Australia's banks, the surge in property prices and much more, the AFR's Christopher Joye and Switzer Super Report's Paul Rickard join Switzer TV.
---
Global shares had another rough week on worries about global growth and as the Ebola scare continued to build.

Thank goodness there is a solid week of overseas events!
---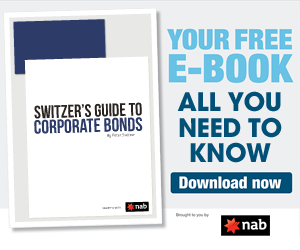 THE SWITZER FEED
Tweets by @peterswitzer