Business News
Aussie shares lower; S&P/ASX 200 fall 1.01%
Australian shares finished the day lower after gaining in early morning trade.
The S&P/ASX 200 closed 39.3 points, or 1.01 per cent, lower to 3863.9.
The All Ords fell 50.9 points, or 1.28 per cent, to 3927.6.
Among the miners, BHP Billiton lost $0.60, or 1.74 per cent, to $33.95 and Rio Tinto was $2.45, or 3.91 per cent, lower to $60.20.
The Big Four banks were higher. ANZ added $0.03, or 0.16 per cent, to $18.78, CBA put on $0.52, or 1.2 per cent, to $43.85, NAB rose $0.15, or 0.71 per cent, to $21.16 and Westpac rose $0.46, or 2.46 per cent, to $19.19.
In energy, Woodside Petroleum lost $1.57, or five per cent, to $29.80, Santos fell $0.45, or 4.15 per cent, to $10.40 and Oil Search was $0.10, or 1.79 per cent, lower to $5.50.
And in retail, Wesfarmers added $0.62, or 2.08 per cent, to $30.47 and Woolworths gained $0.20, or 0.81 per cent, to $24.77.
To Asia, the Nikkei had lost 186.13 points, or 2.17 per cent, to 8374.13 and the Hang Seng was 571.36 points, or 3.23 per cent, lower to 17,097.47.
The Australian dollar was buying 96.3 US cents, 62.31 pence Sterling, 71.93 euro cents and 73.5 Japanese yen.
Published on: Tuesday, September 27, 2011
blog comments powered by

Disqus
Today on Switzer
So what do we do about the Reserve Bank? How do you make sense of any central bank is probably the answer, but no wonder the pundits are currently so confused.

A Canadian shooting has spooked Wall Street but so has a drop in oil, but in reality good news still beats bad news.
---
To analyse volatile October and what to expect going forward, Professor Ron Bewley of Woodhall Investment Research joins Switzer TV. (Broadcast Tuesday 21 October 2014).

Vodafone is celebrating 21 years in Australia and while it hasn't all been smooth sailing, Matthew Lobb discusses what's in store for the future. (Broadcast Tuesday 21 October 2014).
---
The stock market is down to goodies vs. baddies and the good guys are winning! But for how long? Long!

The preponderance of intellectual pygmies is not just in politics. Leadership in all areas of public policy and business is sorely lacking.
---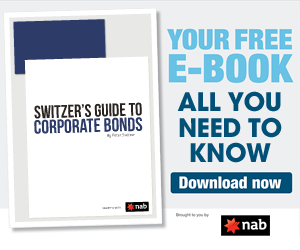 THE SWITZER FEED
Tweets by @peterswitzer